Emojis got a facelift.
Introduced by Apple in 2017, this custom iOS feature allows users to make their messages a little more personal than just sending a taco emoji or winky face.

Image courtesy of Apple
The Animoji technology has been adapted by other third-party companies to make 3D emojis available to people with older iPhones and even Android devices.
EDIT: This article has been updated to reflect the latest Animoji options with iOS 13.
What is Animoji?
An Animoji is an animated 3D emoji that reflects your exact facial expressions and voice messages. These life-like emojis can be sent to your contacts via iMessage and used on FaceTime. Animoji is used alongside the Memoji 3D avatar feature.
The Animoji feature is available on the iPhone X and newer models currently running on iOS 11 or later. Animoji can also be used on the iPad Pro.
Which iOS devices have Animoji?
iPhone XS Max
iPhone XS
iPhone XR
iPhone X
iPad Pro 12.9-inch (3rd generation)
iPad Pro 11-inch
With iOS 13, Animoji sticker packs will be available on all devices with an A9 chip, including iPhone SE, iPhone 6s & 6s Plus, iPhone 7 & 7 Plus, and iPhone 8 & 8 Plus.
While not every built-in emoji on iOS is available to turn into an Animoji, there is a range of fun faces to choose from. When there is a new iOS update, there are more Animojis added to the list!
| | | |
| --- | --- | --- |
| 👽 Alien | 🐻 Bear | 🐗 Boar |
| 🐱 Cat | 🐔 Chicken | Cow |
| 🐶 Dog | 🦖 Dinosaur | 🐲 Dragon |
| 🦊 Fox | 👻 Ghost | 🦒 Giraffe |
| 🐨 Koala | 🦁 Lion | 🐵 Monkey |
| Mouse | 💀 Octopus | 🦉 Owl |
| 🐼 Panda | 🐷 Pig | 💩 Pile of poo |
| 🐰 Rabbit | 🤖 Robot | 🦈 Shark |
| 💀 Skull | 🐯 Tiger | 🦄 Unicorn |
How does Animoji work?
Animojis can mirror a range of facial expressions that are recorded from your own movements. The feature uses the FaceID facial-recognition system to create the 3D emoji versions of you. Animoji and FaceID use the TrueDepth camera and the A11 Bionic chip to analyze 50 different muscle movements and is a huge accomplishment in the history of emojis.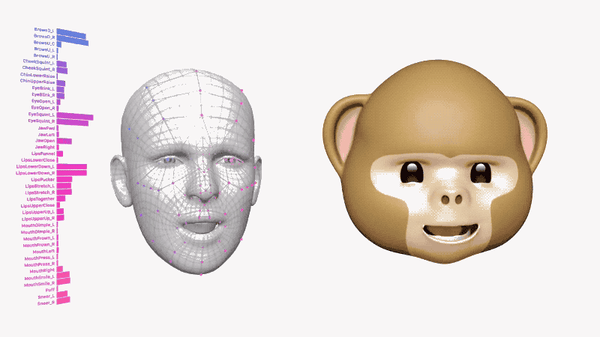 Image courtesy of GadgetMatch
Can you lip-read?
The new camera is comprised of a flood illuminator, infrared camera, front camera, dot projector, proximity sensor, ambient light sensor, a speaker, and a microphone. It's safe to say there's a lot of tech packed in that tiny camera.
How to use Animoji on iPhone X
There are a few ways you can use Animoji on the iPhone X, iPad Pro, and all newer devices. You can use Animoji in iMessage, as stickers, and on FaceTime. Don't worry, you can actually send Animojis to anyone – old iPhones and Androids included. These users will just see the Animoji as a normal video file.
Via iMessage
Start a new message or open an existing conversation.
Just above the keyboard, tap on the monkey icon to open Animoji.
Select the Animoji you want to use.
Look at your iOS device and make sure your face is inside the frame.
Tap the red circular button in the bottom-right corner to start recording. Stop recording by tapping the same button (now looks like a red square). You can record a message for up to 30 seconds.
Preview your Animoji by pressing the arrow button in the top-left corner. You can select a different Animoji using the same recording. To delete, tap the trash button.
To send, tap to blue arrow button.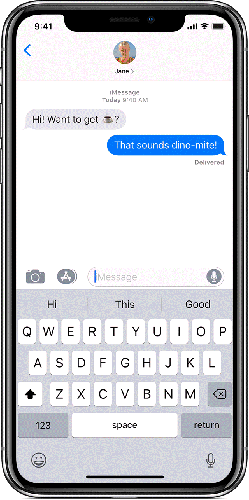 Image courtesy of Apple
Make Animoji stickers
Open Messages to start a new thread or open an existing message.
Tap on the monkey icon in the menu above the keyword.
Choose an Animoji to send.
With your face inside the frame, make a facial expression.
Touch and hold the Animoji, then drag it up into the message thread.
Animoji sticker packs
With iOS13, Animoji Sticker packs are now available on older iPhones, too!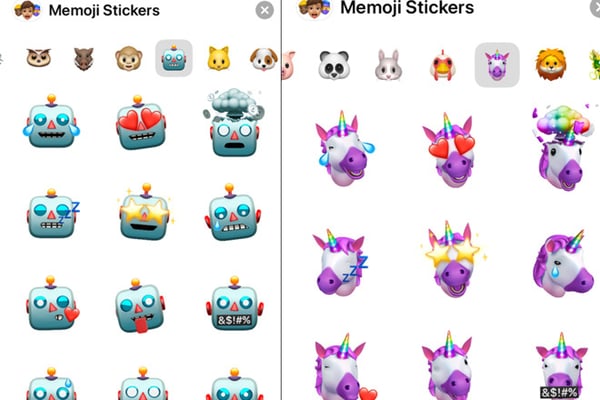 Simply follow the instructions to create these stickers and your packs will be available to use wherever you use emojis.
On FaceTime
Open the FaceTime app and make a call.
When the call starts, tap the star button to open the camera effects feature.
Select the Animoji you want to use.
You can remove the Animoji from the call by tapping on the X icon to return to the full FaceTime menu.
How to use Animoji on older iPhones
There are a number of third-party apps that allow users with older iOS devices that don't have the Face ID technology to use 3D emojis. Simply search "Animoji" in the app store on your iPhone or iPad. While the options might not be an exact match to Apple's Animoji, there are a lot of different emojis to choose from.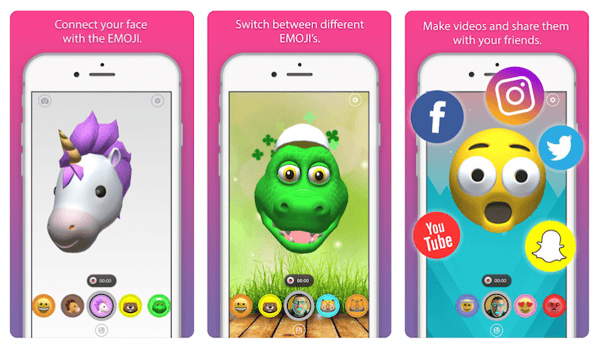 Image courtesy of Emoji Face Recorder
The top two apps from the search results are:
Emoji Face Recorder
SUPERMOJI
How to use Animoji on Android
If you have one of the latest Android devices by Samsung, including the Samsung Galaxy S9 or newer, there is an app built specifically for your device. After Apple's launch of Animoji, Samsung responded by building their very own "AR Emoji." Plus, other Android users can also use Animoji via similar third-party apps. Using the Google Play Store, search for "Animoji."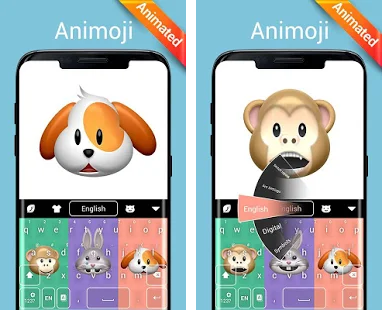 Image courtesy of Animoji GO
The top three apps include:
Animoji GO
EMOJI Face Recorder
Emoji Maker
Let's make faces at each other
Animoji is a fun way to send messages and video chat with your friends. Always be yourself, but if you can be a unicorn… then be a unicorn.
Want to learn more? Try your hand at photography and discover how to use portrait mode or learn more about how AI powers the popular FaceApp.