I love pancakes. A lot of people do.
But the number of people that make the effort to leave their couches and walk over to the nearest IHOP has been declining since 2010.
So, in 2018, IHOP came up with a campaign that would hopefully raise brand awareness and sales. The solution? Change the name to IHOb.
It was ridiculous. It was confusing. It was a nightmare. Nobody could figure out why an entire company would change its name or what the "b" could stand for. What was supposed to be a fun and exciting campaign turned into a monsoon of ridicule from Twitter.
But it worked anyway.
Advertising campaign basics
Since 2018, the IHOb campaign has inspired more than 20,000 news articles, almost 950,000 conversations on Twitter, 36 billion overall social media impressions and sales that quadrupled.
All for the addition of burgers to their menu.
Advertising campaigns are one of the biggest opportunities a brand has to really stretch their creative muscles. In IHOP's case, those muscles might have been stretched a little too far. Advertising campaigns are a way to make people aware of change, bring back forgotten products, or show that your brand is taking part in a social change. Overall, it's a creative solution to connect with your audience.
What is an advertising campaign?
An advertising campaign is a series of advertisements with a single theme or message. Advertising campaigns are often put in place across multiple media channels. The campaign may focus on the brand itself or products within the brand. Advertising campaigns are typically targeted towards a predefined target audience.
Planning and executing an advertising campaign is an enormous project.
If you don't have an in-house advertising team or a lot of time on your hands, it might be a good idea to consider hiring an advertising agency to help you out with the development and tracking of the campaign.
If you think you're ready to take on the challenge, keep reading to learn more about the process behind an advertising campaign as well as how to twist your campaign so that it stands out through the clutter.
The advertising campaign process
Ad campaigns don't plan, write, or execute themselves. Here are the boxes you need to check to make an effective advertising campaign.
1. Know your objective
Before deciding to create an advertising campaign, know why you're doing it. Typical objectives include (a) informing people about your brand, product, or service (b) persuading them to take action, whether that be purchasing, subscribing, or visiting a website or store (c) publicizing what you're offering to an audience.
2. Define your audience
While your advertising campaign could be targeted toward the entire human race, there's a better chance that it will be more productive to target towards a specific customer profile or target audience. When creating your message, be sure that it's one that this audience can relate to and establish a clear call-to-action.
What do you want them to do when they see your campaign? Less is more, here. One message with one call to action is perfect; more than that could become confusing to understand and difficult for your audience to prioritize.
3. Define your metrics
With all of the time and money spent on this campaign, it's going to be important to know how well it's doing in the real world.
Coming up with key performance indicators (KPIs) can help you and your team understand what's working well and what needs to change in the future to make the results more effective.
Determining quantifiable indicators for your advertising campaign depends on the objectives you have. If your objective is to increase brand awareness, track mentions, follows, and hashtags on social media. If your objective is to generate more leads online, consider using marketing analytics software to help you to collect data on campaigns distributed across multiple online channels, analyze and compile data, and visualize those data points in a way that's easy for the whole team to understand.
4. Create a budget
An advertising budget estimates the money you'll be spending throughout the campaign. Consider the media you'll be using, how that media will be produced, how long your campaign will last, as well as any other factors that involve the payment for a top-notch result.
When determining a budget, it's important to consider the return on investment (ROI).
Overspending on a campaign and making a minimal profit is not going to be a fun meeting with your boss.
5. Determine the frequency
The frequency at which your campaign appears will play a large part in your budget, hence the reason it gets its own checkbox. There are three typical ways in which a campaign can be scheduled: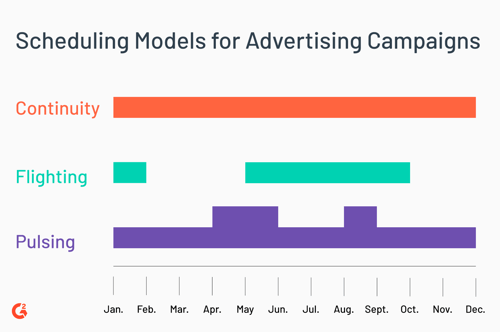 Continuity: Also called "straight-through" advertising, this method involves the scheduling of advertisements in a campaign consistently throughout the year.
Flighting: This method alternates between a regular running schedule and then a complete halt of all advertising. The word "flighting" refers to the part of the method in which the advertisement is being run, while the period where the advertisement is not being run is known as a "hiatus".
Pulsing: This method pays attention to trends in the market. Pulsing involves scheduling advertising at a low volume throughout the year and raising the volume during peak selling periods for the product or service. Think seasonal products or services such as winter coats or cruises for these campaigns.
6. Creative process and execution
Once you have all of your quantitative factors in order, it's time to make sure that your execution is as high quality as possible. The creative process and execution are what will make your advertisement successful, or a complete failure. It all depends on the angle you and your team choose to take.
How to make a successful advertising campaign
It takes more than just the above steps to create a successful advertising campaign. Below are a few tips to help you on your way.
1. Be unforgettable
Being bold is the new black. Brands that take an extra step to say something that nobody else dares to whisper is an extremely effective tactic for gathering attention and a good predictor for a chance at a viral marketing campaign.
In 1911, Woodbury Soap Company was the first advertisement to use sex appeal. The creator, Helen Lansdowne Resor, took it upon herself to employ a taboo topic into a public ad campaign. It resulted in an enormous success and the campaign, along with the slogan "Skin You Love to Touch" was used into the 1940s.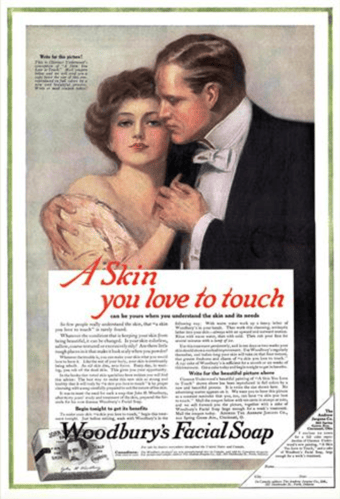 Source: Campaign
The advertisement was the epitome of unforgettable. We're still talking about it, and over a century later it's hard to think of an advertisement that doesn't use sex to sell.
2. Be trendy
No matter what medium your campaign takes place on, make sure that the message is one that's relatable to your audience. If the message isn't personally meaningful to your audience, you'll lose them. The size of your brand doesn't matter.
One of Spotify's biggest assets is the endless list of pre-made playlists for every mood imaginable. They used this benefit in their most recent advertising campaign, combined with something every millennial can relate to: memes. Along with the overall ad design, the concept behind them was clever enough to catch on and win the hearts of every angsty twenty-something.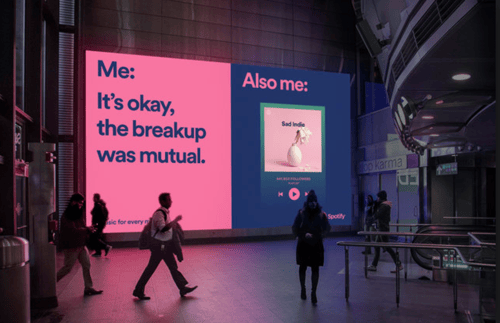 Source: Billboard
3. Be authentic
False advertising isn't going to get your brand positive attention. But authentic advertising will.
Leading with transparency is arguably the top trait of trustworthy brands. With all of the Photoshopped models and flawless landscapes in advertisements today, breaking through that wall of perfection in your advertising campaign makes for refreshing content.
One of the most well-known, authentic advertising campaigns that comes to mind is Dove's Real Beauty Campaign. In 2013, Dove released a campaign that highlighted real women with features outside of the stereotypical beauty standards: freckles, wrinkles, scars, and any other "imperfection" you could think of.
Source: Dove
Their authenticity juxtaposed with the plethora of competing beauty ad campaigns drew in some serious attention. The raw, heartwarming campaign is still talked about today.
Looking for authentic feedback from your own customers to use in your campaigns?
4. Be simple
When a book has too many characters, plot points, and twists, it makes it difficult to finish. The same goes for an advertising campaign. Keeping a single theme throughout the entire campaign makes your message clear and impactful. More than one idea might confuse viewers that could have been potential customers.
Not only does simplicity make the message stand out, but it also makes the overall ad design easier to look at. Follow the storyline, stick to the point you're trying to make, and you'll be golden.
RXBAR is a company that makes protein bars with completely pure ingredients, and they're very upfront about it. The simplicity of the brand is reflected heavily in all of their marketing materials and packaging design, and their advertising campaigns are no different. Straightforward, simple, and to-the-point print ads are what knock RXBAR campaigns out of the park.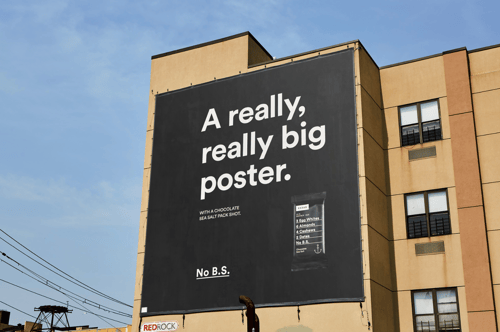 Source: Brandless
5. Be different
It's easy to see that there are some advertisements that really go with the grain. Jewelry commercials feature couples, car advertisements feature dusty roads, pharmaceutical advertisements feature nature, and soap advertisements focus on beauty and hygiene.
But what if your advertisement didn't follow the norm?
Going against the grain may feel ridiculous and risky, but with careful planning and execution can help your brand stand out, intrigue your audience, invite engagement, and make a lasting impression.
Advertisements for candy are usually bright, colorful, and fun. Skittles is different.
Since 1994, "Taste the Rainbow" has been a running campaign for the candy company, making it one of the longest running campaigns in advertising history. Their TV commercials are increasingly awkward, absurd, and just plain bizarre. Think Skittlespox, for instance. You know exactly which advertisement I'm talking about, and that's just part of the proof that the campaign is a success.
Source: Skittles
Flip the script
The goal of an advertising campaign isn't to infuriate an entire community on off a bunch of people on Twitter like IHOP did. The goal is to bring attention to your brand and your product by being different, simple, trendy, and unforgettable.
Like IHOP did.
Posters and TV commercials don't always cut it. Take your campaign to the next level with experiential marketing.