When it comes to choosing a career, it's always important to determine a path you already love.
For instance, if you don't enjoy dealing with teenagers, it wouldn't be a good idea to become a high school teacher.
However, if you've always loved math, charts, graphs, and statistics, then going down the path of an actuarial scientist might be the right choice for you. Before you dive in with both feet, first learn more about what a role in actuarial science looks like, and what the road to a career will be like.
Jump ahead if you want to learn about something specific about actuarial science:
What is actuarial science?
Actuarial science is the study of applying mathematical and statistical methods to estimate risk in insurance, finance, and other industries.
What does an actuarial scientist do?
As an actuarial scientist, you will analyze the financial costs of risk and uncertainty. This is done using mathematics, statistics, and financial theory to determine risks for potential events and help businesses and clients minimize the cost of said risk.
If you're interested in this line of work, know that'll you have to bunker down, hit the books, and get ready to do some serious studying.
Actuarial science degree
If you're a person entering college who loves math, finance, statistics, and business, an actuarial science degree may be right for you.
Because of this, college students should major in either economics, finance, math, or statistics. There's also the option of majoring in actuarial science, which seems like the obvious route, but know that you have options. It's also wise to take a few computer science courses to expand your knowledge and be more well-rounded in the field.
Actuarial science exams
In addition to getting a degree, to be an actuarial scientist you need to pass a series of 10 exams that will provide you with a certification. Depending on the exam, they're timed between three to five hours and take most people between five and 10 years to finish.
These exams will test those interested in becoming an actuary on their mathematical skills and overall understanding of how insurance works. There are currently seven preliminary exams that go over probability, time value of money, statistics, and more. Once you pass all seven you will be called an associate. Then you'll move on to take three additional exams to become a fellow.
Preliminary exams usually last between 3 - 3.5 hours and are either taken on the computer or written, depending on the test. Fellowship exams are 100% written and can take anywhere from 2.5 hours to 5.5 hours to complete.
These exams are scored on a scale of 0 to 10 and you'll need to get at least a 6 to pass.
Did you know: It's normal for a company to hire someone that has only 2 or 3 of their exams completed and passed.
If you're studying for either a preliminary or fellowship exam and could use some assistance studying, check out our roundup of the best study tools on the market.
While your employer may pick up the tab for your exams, it's likely that you'll need to pay for the first two or three out of pocket. The first few cost roughly $225, while fellowship exams can cost over $1,000 to take. You also should consider the cost of study materials and any necessary guidance, which could range from $200 to $1,000.
The list of exams include:
1. Exam P/1
2. Exam FM/2
3. Exam IFM/3F
4. Exam SRM
5.

Exam STAM
6. Exam LTAM
7. Exam PA
Plus three fellowship exams
Actuarial science jobs
If you've ever been asked, "what can you do with an actuarial science degree?" I'm here to answer that question.
The primary goal after you have your degree is to become an actuary, who is usually someone who works at an insurance company and is a specialist at quantifying risk. Using a skill set of math and statistical concepts, they can determine the probability of certain events happening in the future.
They then will calculate the amount of money a business should set aside so they have enough to pay for the event, if and when it takes place. As an example, when you purchase a new car insurance policy, you expect the insurance company to pay for the damage if and when you get into an accident in the future.
Some job titles within the actuarial science industry include:
Actuarial Analyst
Senior Actuarial Analyst
Consultant
Principle/Partner
Manager
VP/Director
Chief Actuary
Chief Risk Officer
Regardless of your role, some typical duties of an actuary include:
Compile statistical data for further analysis
Estimate the probability and the cost of an event - such as death, sickness, a natural disaster, or an accident
Design and test insurance policies, investments, pension plans, and other strategies to lessen risk and boost profit
Explain calculators and proposals using charts, tables, and various reports
Further elaborate on findings to company executives, government officials, clients, and shareholders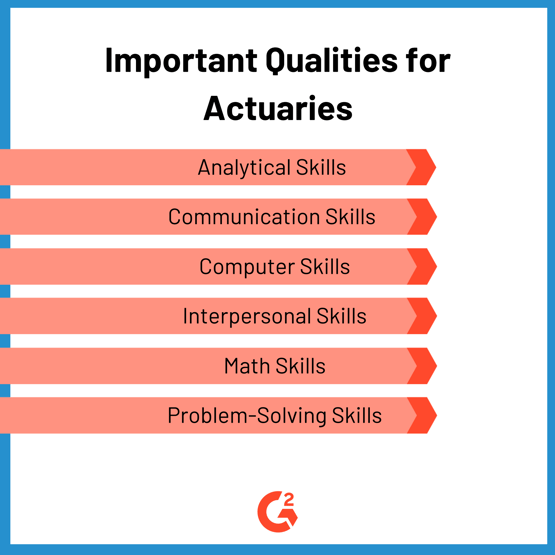 Actuarial science salary
The starting salary for an actuary, who has two actuarial exams passed, can expect to make between $46,000 and $71,000.
Once you've passed all ten exams and have at least six years of job experience, you can expect to make between $125,000 and $190,000. Those with over 20 years of experience can reach a salary of $500,000 or more.
If you're looking to climb up the salary ladder as quickly as possible, it's going to depend on how quickly you pass the actuarial exams. Most companies will offer salary increases just for passing an exam.
For early actuarial exams, like Exam P and FM, you can expect an increase between $1,500 and $3,000. As you pass the most difficult exams, especially your fellowship exams, you could see an increase between $5,000 and $7,000.
Of course, this is going to depend on the company you choose to work for, if you have switched companies in the past, and the amount of experience you have.
No risk, no reward
When you're a professional in the actuarial science field, it's all about calculating the risk. It's a rewarding job, but before you start, it's important to consider all of the hard work that will need to be done along the way.
Learn more about other popular career paths, like accounting! Then check out 30+ accounting statistics you need to know for 2019.