You've probably heard the term, "web accessibility."
And if your organization or business has a website, there's a good chance you already know there are web accessibility compliance standards you need to meet.
Terms like "ADA Title III," and "508 compliance" are thrown around a lot, but organizations are often unclear about communicating which laws apply to them. Most businesses don't know what those terms represent, who they apply to, or what the relevant laws require from website owners.
While these pieces of legislation are each important and interlinked, we're going to focus on 508 compliance and the entities it applies to.
---
What is 508 compliance?
The "508" in "508 compliance" refers to Section 508, an amendment to the Rehabilitation Act of 1973 made in 1998. The Rehabilitation Act of 1973 prohibits discrimination on the basis of disability by federal agencies and the programs they run.
However, if you're a private company, you're not out of the woods yet. Title III of the ADA still prohibits discrimination on the basis of disability in places of public accommodation like restaurants, stores and now, arguably, the internet. Both public and private entities are subject to steep fines for noncompliance with either Title III or Section 508.
Thankfully, the compliance standards required by both pieces of legislation are similar, so the information ahead is useful even for workers in private industry.
TIP: With so many types of compliance, it's hard to make sure you're not exposing yourself to liability. Ensure your software is compliant by activating your free G2 Track account.
What is Section 508?
1973 was a different time — bell bottom jeans, pet rocks, lava lamps, etc. The internet (and along with it, its idiosyncrasies) was a full decade from being invented.
By the 1990s, it was obvious the legislation in place to accommodate people with disabilities was not comprehensive enough. The world was rapidly entering a new digital age, and concerns about how people with disabilities interact with new technology mostly fell to the wayside.
This was especially problematic when it came to accessing new resources such as government websites. While the ADA and Rehabilitation Act provided accessibility standards for physical government spaces, there were no compliance standards for the government's growing web presence.
In 1998, Congress amended the Rehabilitation Act of 1973 by adding Section 508 which specifically required federal agencies to make their electronic and information technology (EIT) accessible to people with disabilities.
Who does Section 508 apply to?
Section 508 explicitly requires compliance from federal agencies. However, 508 compliance is also expected from any entity that works with the federal government. This includes many legal and financial organizations, health care providers and private contractors.
While Section 508 compliance is required on the federal level, it varies at the state level. Some states have adopted regulations similar to Section 508 (dubbed "little 508s") or they outright require 508 compliance at the state level. This means, depending on the state, entities interested in working with either state or local government have to comply with Section 508 or something like it.
Which states require 508 compliance?
Not all states have government-mandated accessibility standards for technology. States that do either drafted their own or adopted the 508 and amended it.
States that require compliance with Section 508 or regulations like it include:
Alabama
Arizona
Arkansas
California
Colorado
Connecticut
Illinois
Indiana
Iowa
Kansas
Kentucky
Louisiana
Maine
Maryland
Minnesota
Mississippi
Missouri
Nebraska
New Hampshire
New York
North Dakota
Ohio
Oklahoma
Pennsylvania
South Carolina
Texas
Utah
Vermont
Virginia
Washington
Wisconsin
Wyoming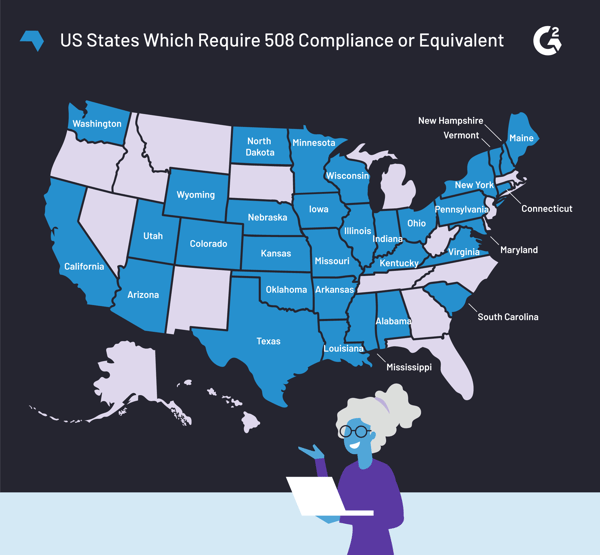 If your state requires some form of 508 compliance, research its specific standards to ensure your website has reached a satisfactory level of compliance.
---
How do you become 508 compliant?
Complying with Section 508 isn't as difficult as it might seem.
Most accessibility standards, including Section 508, are based on the second version of the international Web Content Accessibility Guidelines (WCAG 2.0). The Department of Health and Human Services has a handy HTML 508 Compliance Checklist that breaks down the standards into a series of questions that website owners might ask.
These questions include:
"

Is the site free from content that flashes more than 3 times per second?"

"

Is the order of navigational elements consistent across the site?"

"

Is information conveyed by methods other than color alone?"
The checklist is broken down into sections for specific web elements like video and dynamic content. This allows website owners to check for compliance questions that are relevant to their site and content.
508 compliance testing
Auditing and monitoring a site for accessibility compliance is much easier than it sounds. There are dedicated website accessibility software solutions that can actively monitor a website. Free tools are also available that allow users to enter web pages via URL, HTML markup or HTML file upload and provide feedback on problem areas.
---
Interested in other compliance software? Check out all the governance, risk and compliance software listed on G2.